Our favourite tech trends
Our favourite tech trends to watch
Wow that was another idea-fuelled TinnovationLive Tech Trends session.
These internal sessions are embedded in TheTin's culture. It's a chance for the team (old and new) to meet, reconnect and check-in with each other and it gives everybody a voice… the whole team is given the opportunity to explore new and emerging tech trends before the session and then present their favourite stand-out trend.
It's fun, it's energising, it's inspirational and it's educational. There's always a brilliant buzz in the room.
Plus some of the ideas are taken forward as blog posts, prototypes, or to our Tinnovation Ideation Awaydays where we work them up into innovative digital concepts that could solve real world challenges, some of which we then share with our clients and at our TinnovationLive events.
We decided to do things a bit differently this time, so rather than the SLT picking the ideas to take forward, we asked the team to vote for their favourite ones.
The results are in and the top ideas as voted for by TheTin team are…
Latest AI chatbot developments e.g. Pi - your personal AI
Why user-centred design is outdated
The fall and rise (again) of QR codes
Pros and cons of AI in the classroom
New game made with Google Geospatial Creator in Adobe Aero
Microsoft Launches New AI Skills Training and Resources as part of Skill for Jobs Initiative
Latest AI chatbot developments e.g. Pi - your personal AI
The chatbot known as Pi is different from Google Bard or OpenAI's ChatGPT. According to the company the chatbot has been designed to be 'supportive, smart, and there for you anytime'. The company has pitched Pi as an AI that is more of a companion to humans than an assistant to deal with mundane tasks. It's got a different tone of voice and a more pleasing interface for a start!
Examples of use could be:
Needing a lightbulb moment e.g. trying to think of a better phrase, a creative party theme or a good gift
Time to make a change - Pi can help you organise your thoughts, make clear plans and act on them such as changing jobs, trying to get healthier or learning a new skill
Wanna vent - no matter what you're going through, Pi can help you talk it over in a kind and compassionate way
You can talk with it anywhere, it speaks out loud, and you can personalise your experience. Try it here!
Tech trend idea by: Anouska Craig, Designer, TheTin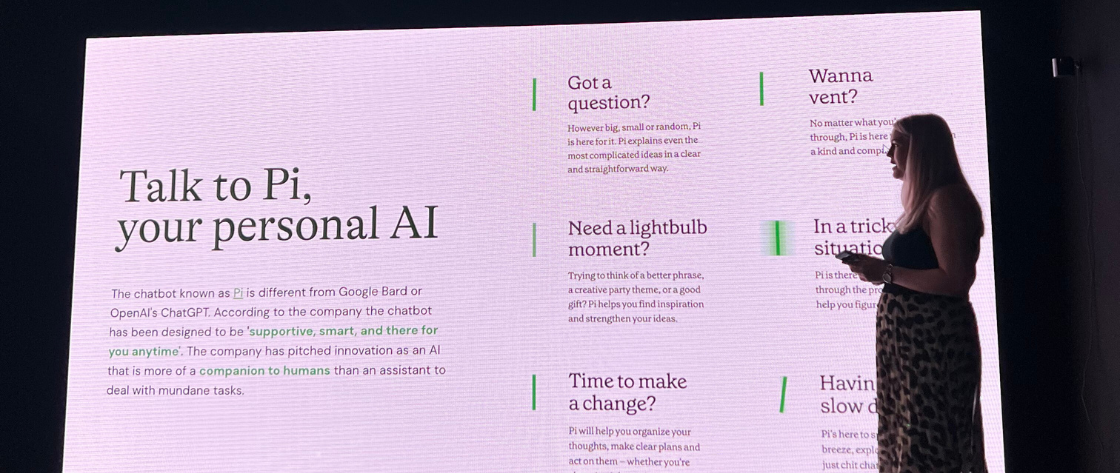 Why user-centred design is outdated
This may seem a bold statement given that we live in a world full of product and service brands that are fully focused on giving the best possible user experience at every touchpoint.
However… in the tech design world the focus is slowly shifting towards society-centred design (SCD). So what does this actually mean and why is there a shift in focus?
SCD prioritises the well-being and interests of individuals and communities in tech design that addresses broader societal implications and aligns with ethical and social values.
As an example, some electric scooter and bike companies have decided to remove the docking stations for the rented bikes, giving the users the opportunity to leave them anywhere. This sounds like a great experience if you look at it from the user's POV, but the consequences for the rest of society were not taken into account, especially for those with limited mobility who have to deal with the parked vehicles on pathways, driveways etc. which altered consumer perception of these companies, and has attracted significant criticism.
This highlights how important it is for brands to carefully consider how they approach SCD and doesn't mean that user centricity will necessarily be replaced by it but perhaps more enhanced by the principles of it when designing products and services. Consistency and long-term planning are key for success. Definitely a trend worth watching in our view.
Sources: medium.com, Oreilly.com.
Tech trend idea by Eugenia Capula, Project Manager, TheTin
The fall and rise (again) of QR codes
It wasn't that long ago that QR codes were mocked as a gimmick and deemed a dying fad. However, since the pandemic, QR code usage has risen by 750% across the world.
As we transition to web 3.0 and with digital touchpoints and advancing tech on the rise, the QR code continues to bridge the gap between the physical and virtual world.
But…they are a bit boxy and a bit monochrome!
Enter QaRt! A current trend which utilises image-to-text AI to generate beautiful, fully functioning QR codes through user written prompts.
And now, using Stable Diffusion, you can integrate a working QR code into your own custom artwork or image to the extent that the original code is barely visible!
Tech trend idea by Chris Davidge, Senior Designer, TheTin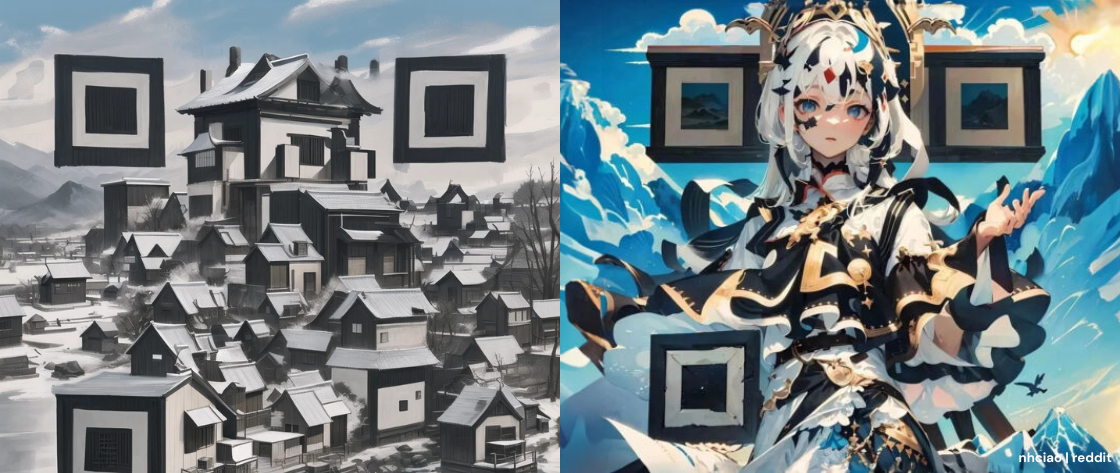 AI in the classroom - friend or foe?
AI continues to be the hot topic, but should it be in our classrooms?
The media headlines are focused on students using AI to 'cheat' and write essays but everybody is going to have a different view and it will also depend on which side of the fence you are standing: educator or learner.
With the right tools, understanding training (and budget…), AI can help both teachers and students and it seems clear that AI can dramatically enhance our education system practices, procedures and processes.
Here's a few of the educational AI tools already in use:
ChatGPT also has a place in education. It can teach children to think about the questions they ask and to help them learn that different prompts deliver different answers (in the same way we use search engines).
We'll be watching how this unfolds over the next few years as AI in the classroom is definitely here to stay.
Which AI tools are you using and what are your views on AI in the classroom?
Tech trend idea by Trevor Davis, Head of Sales, TheTin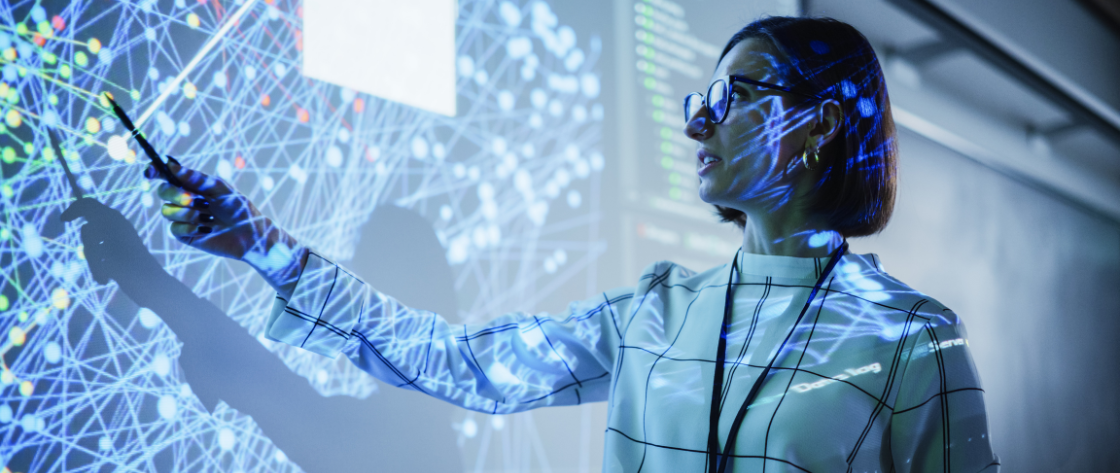 New game made with Google Geospatial Creator in Adobe Aero
If you're old enough to remember Space Invaders you'll love this new immersive AR version of the game which has been developed to celebrate it's 45th anniversary - Space Invaders: World Defense. If you're not that old you might still love it so give it a go…
It's powered by Google's ARCore and Geospatial Creator. Players can create engaging AR experiences in real life locations in over 49 countries.
You can compete with friends and other players nearby and check out your scores on local leaderboards. Try it out and see how it transforms your location into a virtual playground!
Tech trend idea by Iain Millar, Head of Innovation, TheTin
Microsoft Launches New AI Skills Initiative
Microsoft has recently launched new AI skills training and resources as part of its Skills for Jobs initiative - the first ever certified course in Generative AI (at the time of writing).
AI offers tremendous potential to empower workers around the world – but only if everyone, everywhere has the skills to use it.
The Microsoft AI Skills Initiative includes:
free coursework
global grant challenge to uncover new ways of training workers
greater access to free digital learning events and resources for everyone to improve their AI fluency
Note that this coursework will be available for free through to 2025
See here for more information.
Tech trend idea by Karol Rusek, Front-end Developer, TheTin
Does anything stand out to you?
What are your views and thoughts on any of these topics? Be sure to follow Jamie Simmonds & Iain Millar at TheTin for regular tech and trend updates and our thoughts on new innovations.
Plus, if you'd like to come along to future TinnovationLive events click here to register.
Check out more of our Insights