Harness the right technology to deliver a consistent and relevant brand story
Technology innovation is fuelling fast change across every industry sector. The pandemic simply accelerated the process. Companies need to embrace digital solutions on a global scale to sustain growth in today's technology and data-driven world.
Whether your company provides a professional service or sells products, your customers and clients are adapting with ease and have become more demanding than ever before.
They expect seamless omnichannel experiences with customer-centric user journeys that are intuitive, personalised and relevant.
Communicating a digital-first brand is complex and needs consideration across all areas of a business. Most companies are embracing technology and offering new innovative services to their customers but it's crucial to not let this compromise a strong and consistent brand narrative.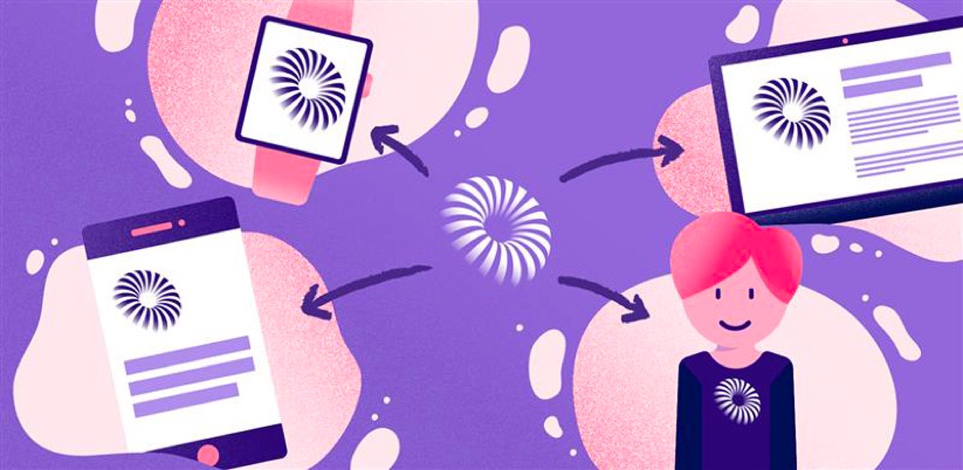 Adoption of technology innovation
In recent years we have seen the professional services sector focusing on innovation with the likes of PwC, EY, KPMG and Deloitte all launching technology advisory practices.
Driven by automation and competition from cheaper emerging markets these businesses have embraced innovation with speed and agility.
Even within the legal sector we have seen firms announce their adoption of AI. Others have launched consultancies focusing on specific sectors designed to advise TMT (technology, media & telecom) clients on strategy and business transformation.
But are professional services businesses embracing their own brand and narrative in the same way?
Are these businesses winning the long game or diluting what they stand for in the short term? Only by investing in their own brand and ensuring buy-in across the business can they be sure they will come out on top in the future.
A consistent brand narrative is especially important to differentiate in the professional services industry. Placing beliefs and ethics at the forefront of their proposition will help to establish trust with existing customers and appeal to new ones.
Chat to us about how we could help you improve your brand narrative with a strong digital presence.
Book a brand consultation
Brand narratives: consistency, relevancy and adaptability
The ever-changing digital world brings big challenges to keeping a brand on track. Consider these three pillars of a digital-first brand strategy to make sure your messaging stays on target in the right places.
We recently delivered a brand refresh for a major global professional service firm. This project was the first major review of the brand since it was launched in 2010. The objective was to refresh the brand, requiring consideration of multiple channels across multiple devices and multiple systems/applications, many of which didn't exist at launch. All the time the focus had to be to maintain consistency, relevancy and adaptability.
Consistency requires careful management as channels constantly evolve resulting in a fragmented landscape, miss one and your brand looks lazy and left behind. Keeping your brand consistent builds the trust and reassurance your customers expect.
Your customers expect to engage with your brand via the technologies and channels that are meaningful for them, relevancy ensures you are seen in the right places and prevents your competitors getting the upper hand. Do you really need a Facebook page?
Adaptability is essential when traversing the fragmented digital world. Frankly, it's impossible to get everything right first time. Only by listening, analysing and adapting your output will your brand keep your customers engaged. This is a mindset and a culture of fail fast and improve without blame.
So, how do you ensure your business is set-up for success when delivering on brand?
It goes without saying that the key areas to make this happen are people and processes, but how does this manifest in solving the key challenges:
Internal processes
Ultimately governance is the bedrock of delivering your brand and this can be done in many ways. From workflow management and clear approval channels, to easy-to-understand current guidance and advice. Not just to help them adhere to information, but also to check that they understand the importance of brand. Moreover, the importance of consistency to ensuring that your brand is protected.
Another key consideration here is how to personalise. The needs and requirements of a Brand Director are very different to that of a Developer, so if you're sending both the same set of guidelines and hoping they'll trawl through to find the information relevant to them you are likely to fall at the first hurdle.
Brand Directors and CEOs are guardians of the brand, the brand is the entity that may eventually sell for millions or billions of pounds. Designers and Developers need the right templates and code to make sure they are delivering consistently. It is an important point that is often overlooked when new branding is rolled out. Always personalise your guidance if you can.
People: managing stakeholders
So we've embraced technology and set ourselves up with the right processes and tools, but this in itself is not enough. Managing the people involved in delivering your brand is essential to success. It goes without saying that you need your Directors or senior stakeholders on board, but if it's at the cost of confusing the delivery team then you're doomed to fail.
It is vital to understand from the outset that your Brand Director's requirements and emotional needs can be polar opposite from the delivery teams on the ground. This must be factored into all project comms (initiation workshops, reporting, status updates).
Understanding what is important at each stage to each audience and separating out the right information, means you can keep all your project stakeholders happy and engaged.
Customer experience
Ultimately your brand success all comes down to the customer experience. As the channels and technology evolves how do you know you are making the right choice to be sure your UX and therefore brand experience is as good as can be?
And we are not just talking visual language or tone of voice here. Take Amazon for example, their brand is speed, not in the way their logo animates or the way their copy sounds, it is the experience you have when using Amazon across any channel. Their brand is speed. You know you will get that delivery as quickly as possible and their whole online experience is geared to make sure that happens.
As professional services businesses continue to expand on their market offering, their brand experience can get muddled. Staying ahead of the competition can lead to over stretching your current workforce and affect customer experience. What does each branch of the business want to communicate as its message, when trust is likely the most pressing issue?
It is vital to consider all touch points that the brand has with their customers from the way your page loads to the tone on your "out of office" email because it is this that builds the overarching impression they will have.
In summary
We are living in exciting and challenging times as the world of brand and technology continues to evolve at a quicker and quicker pace.
In order to confidently navigate this challenge, businesses need to focus hard on their own brand and accept that individually there can be too much to have a full grasp on.
By focusing on internal processes and personalising information and communications to all levels of personnel, we can help people understand and work together to deliver on brand.
By utilising the latest technology correctly we can enhance our internal and customer experience. Then by being aware that every touch point builds our customer loyalty, whilst adding value to our brand, we can be sure that we are considering the full picture.
Ultimately, we need to accept that the complexity is only going to increase and that we must set ourselves up to embrace and explore it with the right people and tools. By doing this we will be sure to deliver our brands consistently, relevantly and adaptably.
Check out more of our Insights