Can Augmented Reality be used to acquire new customers, promote brand loyalty and help customers get more information about the products they enjoy? TheTin's Tinnovation team decided to find out…
Augmented Reality or AR technology allows us to overlay our real screen world with media or information. Pokemon Go and the IKEA furniture app are interesting and diverse applications for this kind of technology but we wanted to explore how we could expand on this, using it to attract new customers and help them get more information about the products they enjoy and also, how this could promote brand loyalty.
BeerAR — The App
Detailed storyboards were created to help us figure out when, where and how people would be using the app. Factors such as lighting, orientation and location were considered and assumptions made about use of the app. People would be more likely to use the app indoors, holding their phone at a natural angle rather than vertical or horizontal. We explored what format the augmented content would take. Would it be 3D or 2D? Would you be able to interact with it? Would it be fixed on a surface? Would it get smaller if you move away from it?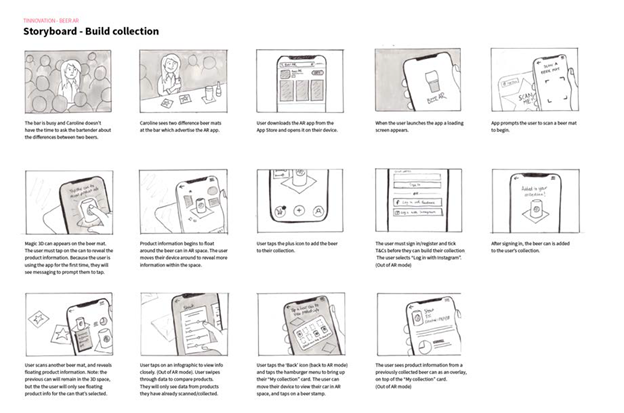 After workshopping these ideas we decided upon a 3D beer can locked to an image; in this case a physical beer mat which the user could explore by moving their device around the model. From here we moved to wireframes to flesh out the concept and get a storyboard of how the experience would work before the final UI was put together.
To make the concept work we wanted to partner with a cool, tasty and visually interesting brand, enter Duration.
The beer brand
Duration Brewing is one of the UK's most anticipated new breweries.
A progressive Norfolk farmhouse brewery making wild ales and fresh beers from nature with pedigree and purpose. Duration's brand presence is perfectly placed with storytelling ability and of course; they make great beer.
Duration partnered early on with a new design outfit called 5HT.
Using 3D models of the brew house and the taproom, 5HT even came up with animations of a brand character inside the landscape of each beer label for every collaboratively made brew. Normally the host brewery only place the guest logo on the product badge. Duration's first series of 12 beer labels will be designed by a digital textile artist at Duration.
Chat to us about how we could help you improve your brand narrative with a strong digital presence.
Book a brand consultation
How we developed the app
Once the UI was put together we then had to decide on a system to use for building the app. There are an array of full suite tool libraries out there from incredibly powerful systems used to create immersive games through to more accessible web based libraries. We decided on Viro Media as it came with features that perfectly fit our needs right out of the box:
● Image recognition so that we could use the Duration artwork
● ARKit and ARCore support for the main AR processors used in modern smartphones
● Both of these allowed us to lock the virtual can in space allowing users to move around and view the item from different angles
● The app is native, meaning there can be a virtually unlimited number of users on the app at any one time
● Finally, the system comes with a fast prototyping environment which would prove invaluable during our build process!
The tools available make it easier and faster to learn than ever but scale in 3D AR is tricky to get right and you can lose immersion even if it is just a fraction off, leaving objects looking oddly unreal. The technology is there and ready to be used in so many different ways but the hardware we have available is still in its infancy.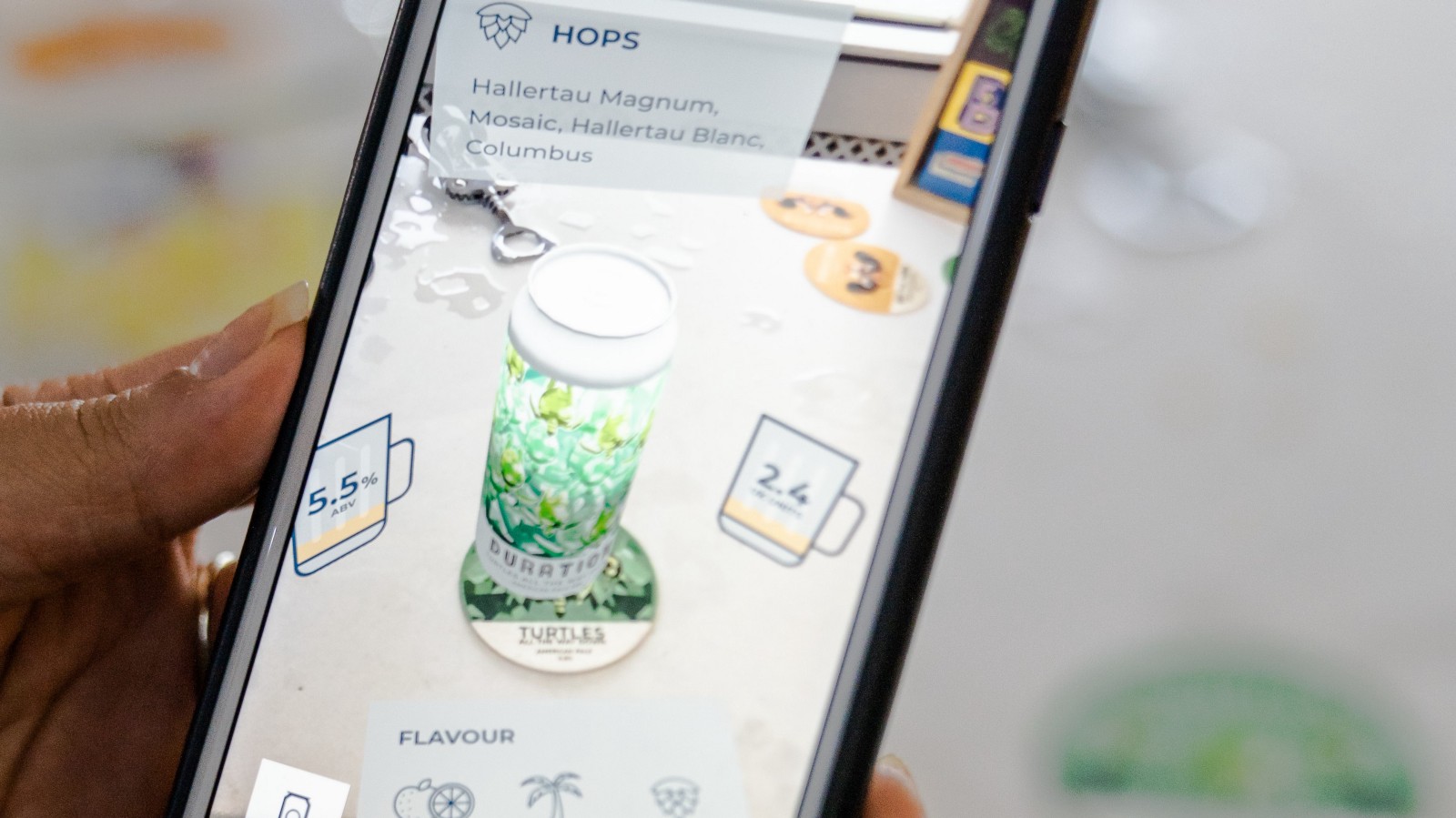 What does this mean for the future?
We know that this kind of technology will not only get better but will almost certainly become a regular part of daily life and information gathering. Visual search and display technology will get better as well as voice commands and searching to make your digital, augmented experience. Google Lens already allows you to translate a menu in real time or get information on a product in front of you, this service will only get faster and more accurate.
Hardware is also going to change, millions of dollars are already being put in to creating not only devices but also implants that will augment the world around us and bring more information to us in better and more seamless ways.
It's interesting to consider where AR can go beyond face filters, stickers and games, and how it could become a part of our everyday lives. Will we see overlays on billboard advertising? Will street signs become a thing of the past replaced by virtual images projected onto our car windows?
At TheTin we firmly believe that AR will soon become part of many digital campaigns and that this tech, that has been around for a while, will mature into a complementary tool to help our clients and partners illustrate their stories in a new and inspiring way.